8 Dental Promotional Product Ideas That Will Set Your Clinic Apart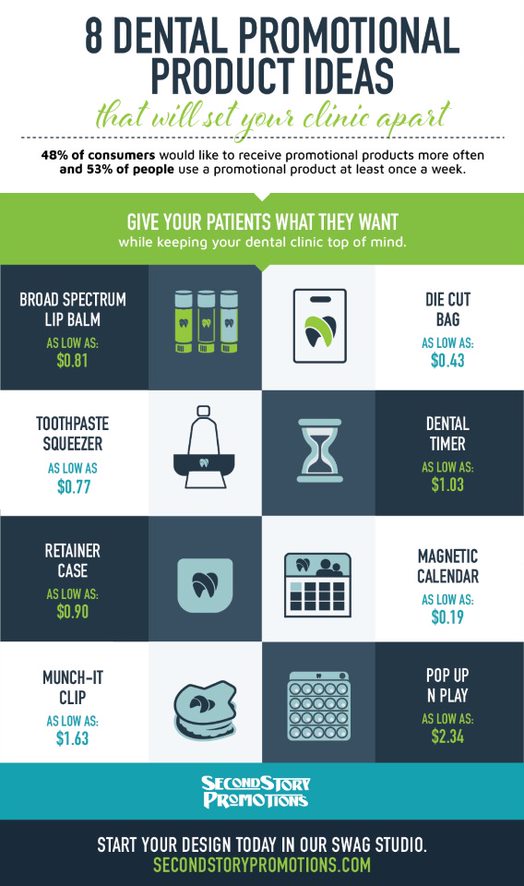 Is your dental clinic in need of excitement? Promotional products are the perfect way to give your office some flare. We've got you covered with a full list of products that will both show your patients how much you appreciate them and keep them coming back.


1. Broad Spectrum Lip Balm
Lip balm is by far the most popular promotional product for dental offices. It's a product all ages can use and just what your clients need after a teeth cleaning. The Broad Spectrum Lip Balm is extra smooth, and made with natural ingredients including beeswax, aloe vera and vitamin E. With 27 flavors to choose from, you'll certainly find one that suits your office!



2. Die Cut Bag
Whether you're walking out of the dentist office with a new retainer or the typical toothbrush pack, it's nice to have a bag to carry those goodies. The Die Cut Bag is a simple, functional, and durable option. Its sleek design comes in 14 different colors and prominently displays your brand's logo.



3. Toothpaste Squeezer
Spending time pinching and folding your toothpaste when it gets low? Help your clients get every last drop from their tube with the

Toothpaste Squeezer

. This helpful little tool slides right on the back of the tube and ensures you're squeezing from the right end.



4. Dental Timer
Some people say to sing the alphabet twice or count to 100 while brushing your teeth. Make it easy on clients and give them a

Dental Timer

. It's simple: When the sand falls from one end completely, you know it's time to stop!



5. Retainer Case
You can't give someone a dental retainer without a case, so you may as well attach your logo. This

Retainer Case

is BPA-free and made of molded plastic for storage of an upper or lower retainer, with aeration notches behind the back hinge for easy opening and closing.



6. Magnetic Calendar
From holding grocery lists to wedding invitations, magnets are a necessity for every household fridge. Measuring just 5" x 5" in size and displaying all 12 months, our

Magnetic Calendar

is a compact and convenient giveaway that's sure to be used. See how your logo looks in the center by checking out our Swag Studio!



7. Munch-it Clip
Clips are a classic promotional giveaway item. Put your own dental-industry spin on it with the

Munch-it Clip

. This is no boring chip clip! It comes in 11 different color options and features a set of pearly-whites that tightly seal food bags or coupon clippings.



8. Pop Up N Play
From spinners to interactive cubes, fidget toys have exploded in popularity over the past decade. The

Pop Up N Play

is a soft, flexible, silicone material with buttons you can push in and out. It's like reusable bubble wrap you can attach to your keychain or bag!

In need of more fun dental giveaways? Check out a full list of dental products we put together just for you. Start your design today in our easy-to-use Swag Studio. Still have questions about what's possible? Reach out to our team at Second Story Promotions to get your order started!