Top 6 Products to Welcome Students Back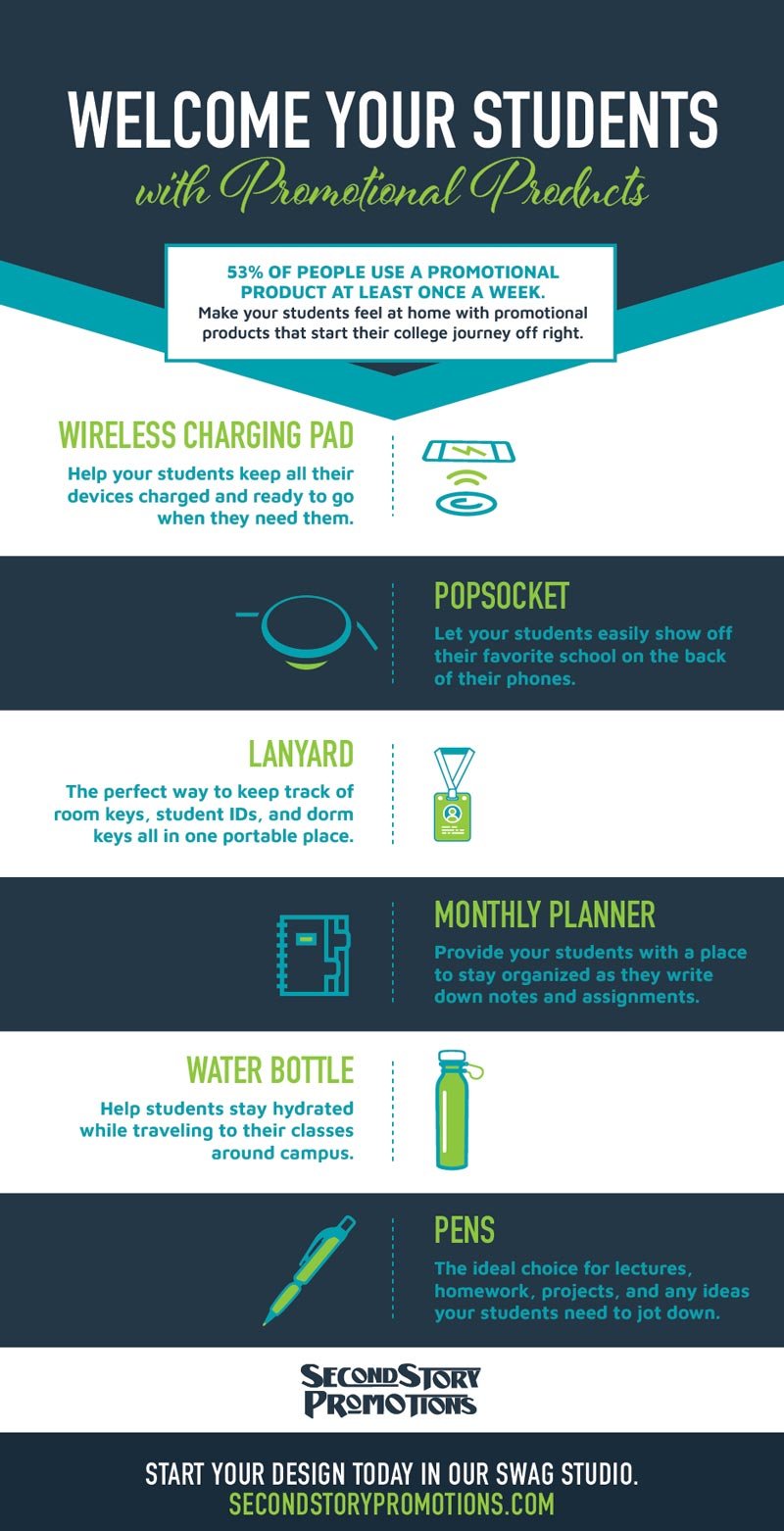 Want to make students feel welcome while promoting school spirit this upcoming year? Look no further than Second Story Promotions!

Whether you're a college preparing for a new flock of freshman or a high school looking to help with the back-to-school shopping list, our team has compiled a ton of great ideas for your consideration. Here's six of our faves:

Wireless Charging Pads
We're certainly not encouraging cell phone usage in class, but wireless charging pads are great for on-the-go studying. Simply plug the pad's USB input cord into your laptop and lay your device on top. The

Back-to-Basics Wireless Charging Pad

also has a non-slip bottom to ensure those valuable devices stay secure while charging. In this age of digital learning, students will thank you for having one less cord to worry about.

Popsockets
Popsockets

have exploded in popularity over the last few years. Get in on the trend by putting your school logo on one. These convenient little attachments stick directly to the back of your device. When expanded, they become a convenient hand hold and stand, allowing you to go hands-free while watching videos or FaceTiming friends.

Lanyards
Lanyards have always been great for holding keys. Now, with scannable ID cards becoming the preferred means of purchasing food and entering buildings,

lanyards

make student life even more convenient. Because they're lightweight and relatively inexpensive, these items are also ideal for college recruitment giveaways.

Monthly Planners
Promote the healthy habit of organizing deadlines and reminders by giving your students a place to write them all down. These planners are pocketsized, so they'll fit in almost any pouch of the backpack. The sleek

booklet-style pocket planners

come in 17 different color combinations, ensuring you'll be able to get one in your school colors.

Water Bottles
Walking to and from classes across campuses can be trek. Make sure students are staying hydrated on the commute with promotional water bottles. Reusable bottles are also a great way to promote a greener campus. Our website offers dozens of options, from bottles with push and pull caps to bottles with

flavor-infuser inserts

. See how they look with your school logo!

Pens
Schools are filled with extraordinary thoughts and ideas, so give your students the tools to jot them down. Students are going to buy pens anyway, so you might as well provide some with your school's logo. Pens are affordable, useful, and lightweight giveaway items, and we have

tons of designs

to choose from, so you can easily find the "write" one for your students!

Order your products today to make sure you're prepared for the hustle and bustle of the school year! Shop the rest of our

back-to-school products

and feel free to

reach out

to place an order!