6 Simple Steps to Using the Swag Studio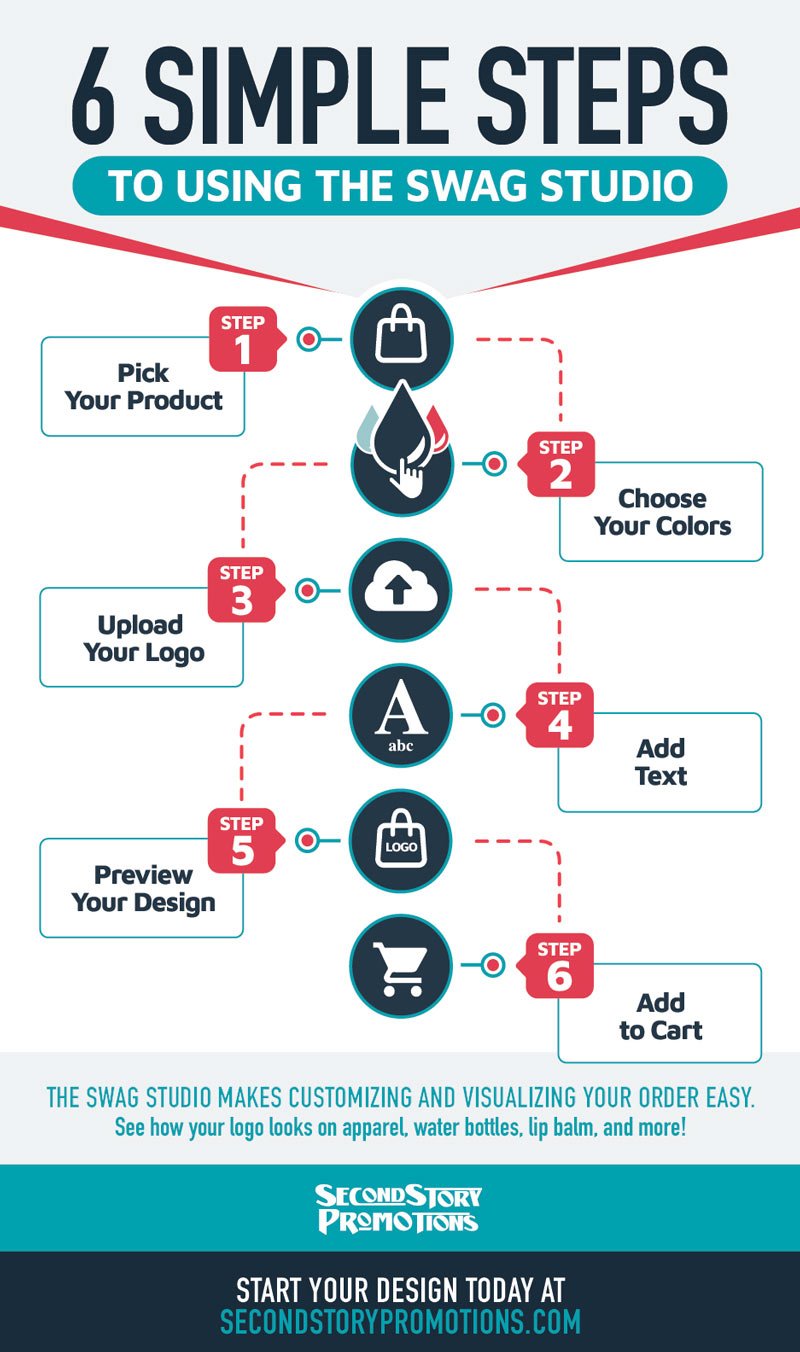 At Second Story Promotions, all of our products are customizable! That means all the items on our website can include your brand's unique logo and text. You can either 1) purchase your products and have us reach out for artwork or 2) customize your own product in our online Swag Studio. If you're choosing the latter, here's how to get started:

Using the Second Story Promotions Swag Studio
1. Pick Your Product
With endless great items to choose from, this is definitely the hardest step. If you already know what you want, sort through our categories using the drop down "product" bar. If you need help finding promotional products for a specific industry or occasion, use our helpful Idea Generator tool.

2. Choose Your Colors
Many of our products are available in different color options. Choose colors that enhance your brand logo or simply choose the colors that speak to you!

3. Upload Your Logo
Once you've chosen your color, it's time to brand! For a clean look, we suggest uploading a file with no background. These types of files usually end in .png. From there, you can drag, stretch, or shrink your logo. If you're having trouble, email us your image to us at web@secondstorypromotions.com and we'll be happy to convert it to the correct file type or size.

4. Add Text
Add text instead of or in addition to a logo. With this feature, you could include the year, name of an event, a quote, or any other words you desire for the product.

5. Preview your Design
Is the product exactly what you envisioned? Is the logo in the right place? It's okay if the positioning isn't exactly right, we'll send you a proof to approve before we create hundreds or thousands of units.

6. Add to Cart
Once you're feeling confident about your design, click the "add to cart" button to exit the Swag Studio. Here you can adjust the quantity and see the total expected price, including shipping. Once your order is received, we will send you a proof to finalize within one business day.

Need help navigating or designing within the Swag Studio? We'd be happy to help you with your order. Contact us!